Oil Seal
Oil seals are designed to be used as radial shaft seals, and in most cases are only used in very low pressure applications to separate the outside environment from the inside of the system.  These seals are found in radial applications such as pump and electric motors and are NOT usually used in reciprocating applications such as cylinders.  Styles include spring-loaded, single and double lip seals, with rubber coated and non-coated metal cases in NBR and FKM materials.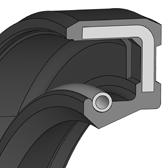 SC Single Lip
Single lip oil seals are the most economical seal for general service sealing. The outer case is rubber coated with a spring loaded sealing lip. These seals are typically used in pump and electric motor applications.( non rubber jacketed )
( Material: NBR, FKM )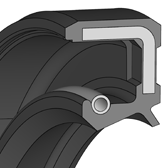 TC Double Lip
Double lip oil seals provide light dirt exclusion, while the sealing lip provides the same sealing abilities as a single lip seal. Double lip oil seals are rubber coated and spring loaded.
( Material: NBR, FKM )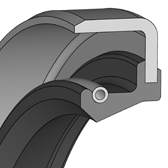 SB & TB Metal Case
Just like our TC and SC our SB ( single lip ) and TB ( twin lip ) are single-action rotary shaft seals for rotating shafts with a metal case rather than being rubber jacketed. Tight and accurate fitting is achieved by the metal outer surface.
picture of sb ( single lip metal casing )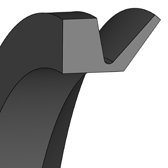 Forsheda V-ring
Forsheda V-rings are axial seals with an elastomer sealing element vulcanized in the mold. The typical design of a v-ring is comprised of the body, the flexible joint and the sealing lip.
( Material: NBR, FKM )